Help us reach our target

this tax time so we can continue to fund world-class cancer research.
Donate by 30 June and 100% of your donation will go to cancer research.
Every 5 hours, someone in Australia dies from melanoma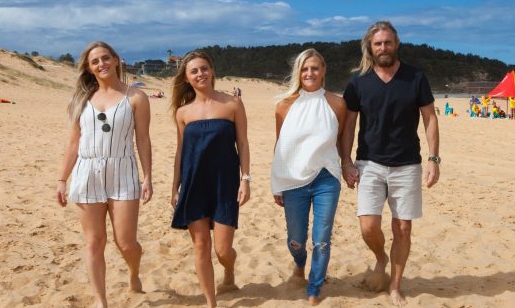 By the time she was diagnosed, Julie had malignant tumours in almost every major organ of her body, including her brain. All they could offer Julie was surgery to remove the tumour in her brain and a course of chemotherapy to slow the cancer's progression – giving her a little more time with her family.
Although she believed she had little chance at all of survival, Julie had made a promise to her daughters that she would survive. Determined to keep that promise, she sought treatment overseas. Seven years later, Julie is alive against all odds.
The decision to seek experimental treatment may have saved her life – but it came at a huge cost to her and her family. They lost their home, their family business and their financial security. The impact of her diagnosis continues to impact not just Julie but every member of the family.
It's something no family should have to go through.
None of this would have had to happen, if Julie had been diagnosed in time.
We can't save lives without your help
Donate
We back projects that help explore new and improved ways to diagnose cancers as early as possible.
Early detection of cancer can greatly improve the success of treatment and therefore patient outcomes. Not all cancers have early detection signs so can therefore be more challenging to diagnose. ACRF works to fund innovative projects that can help improve methods of diagnosis for both rare and more common cancer types. Below are some examples of work ACRF has funded into early diagnosis.
Early diagnosis of lung cancer

The ACRF Centre for Lung Cancer Early Detection is a multi-disciplinary research centre that conducts basic and clinical research into methods for detecting lung cancer at the earliest possible stage.

Early diagnosis of markers in brain cancer

For the more than 1,000 Australian's diagnosed with an aggressive form of brain cancer called Glioblastoma, this cutting-edge centre allows researchers to analyse tumour samples from patients allowing them to identify key mutations which are associated with this form of brain cancer.

Transforming the way we detect cancer

The ACRF International Centre for the Proteome of Human cancer (ProCanTM) at CMRI is a world-first centre transforming the way in which cancer is diagnosed and treated. The team at ProCanTM are researching detrimental genetic changes and their impact on protein metabolism.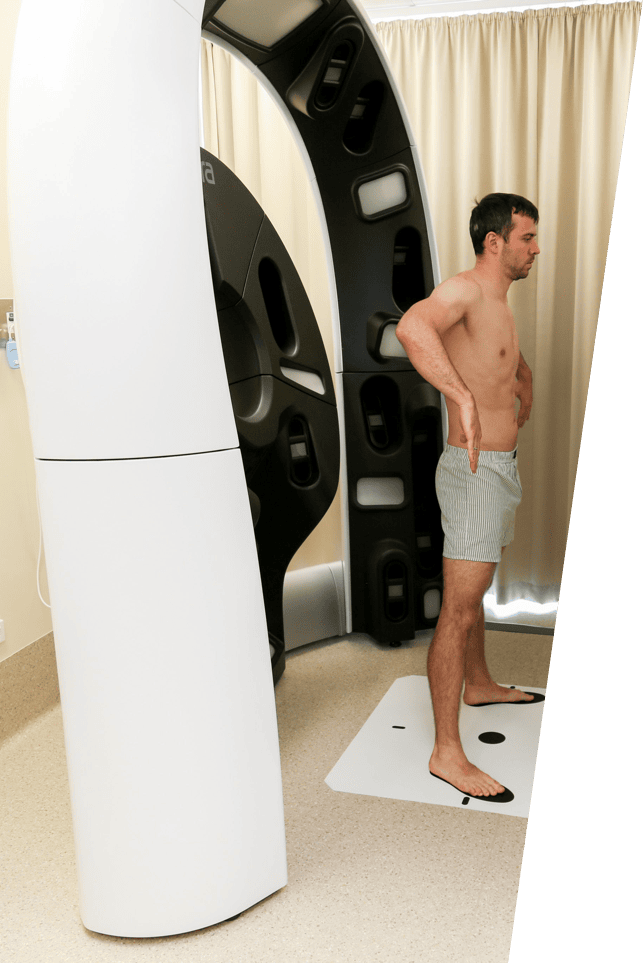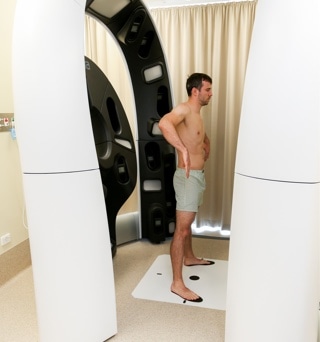 Help fund pioneering research like the ACRF Australian Centre of Excellence in Melanoma Imaging & Diagnosis (ACEMID)
Early and more accurate diagnosis of melanoma can save lives.
HOW IT WORKS
Patients enter the machine and 90% of their skin surface is captured in less than 1 second.

A high-resolution avatar with unprecedented detail is developed.

For the first time clinician wills have total body assessment of patient's lesion "universe".
Recipient of ACRF's 2018 Major Grant, this initiative will enable the purchase of 15 whole-body diagnostic imaging machines (located in both metropolitan and regional areas), each able to perform 3,000 examinations each year.
This will ultimately give people across Australia access to quicker and more detailed scans, analysed by specialists who have been trained to accurately identify melanoma at its earliest stages.
The aim of this initiative is to be the world's largest, most comprehensive skin imaging database whilst providing reliable solutions for melanoma early detection.
"Early detection is the key to saving lives. Initiatives like this are a crucial step towards achieving our vision of a world without melanoma. ACRF's supporters make our life-changing work possible."
– Professor H Peter Soyer, Director of the ACRF Centre of Excellence in Melanoma Imaging and Diagnosis
Help us continue to fund break-through, life-changing cancer research
The benefits of a tax time donation

All donations over $2 are tax deductible in Australia. Donations made before the 30th June could raise the value of your next tax return. Tax return value will depend on individual circumstances.

100% of donations directly to research at tax time

This tax time we are committing 100% of all donations before the 30th June 2019 to research. ACRF's small team strive to operate in the most efficient and cost effective way possible ensuring the maximum funds are invested in cancer research grants each year. Your official tax-deductible receipt will be sent in July and will represent your total contribution to world-class cancer research for the financial year.

How valuable your donations are to ACRF

ACRF receives no government funding and relies on generous donations from individuals and businesses. Without your generosity, we cannot continue to fund incredible research and contribute to the development of breakthrough cancer diagnostic measures.