YOUR DONATION WILL HELP US OUTSMART CANCER
5 Australians die every hour from cancer*
ACRF is on a mission to change this for the next generation.
*Data Source: Cancer in Australia 2017, Australian Institute of Health and Welfare
Cancer.
It can't be defeated on a battlefield, outmuscled in a game.
You can't reason with it, persuade it, try to outplay it.
But if you understand it, you can outsmart it.
That's why our charity, the Australian Cancer Research Foundation funds scientific research and technology.
Arming the brightest minds on the planet with the tools they need to make breakthroughs.
But breakthroughs don't come easy.
And that's where you come in.
Donate to cancer research today and help us outsmart cancer for good.
Cancer may think it's clever, but together we're smarter.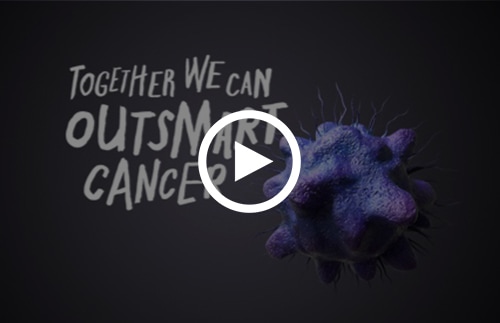 Crowdfunding Technology For Cancer Research
Our mission is to outsmart cancer by providing world-class scientists with the equipment they need to improve prevention, diagnosis and treatment of all types of cancer.
"Cutting-edge research is rarely possible without cutting-edge equipment. By focusing on provision of research technologies, ACRF plays a unique and indispensable role in Australia. There are cancer research teams all around Australia who are making great advances because of the vital support ACRF has given them."
Director of Children's Medical Research Institute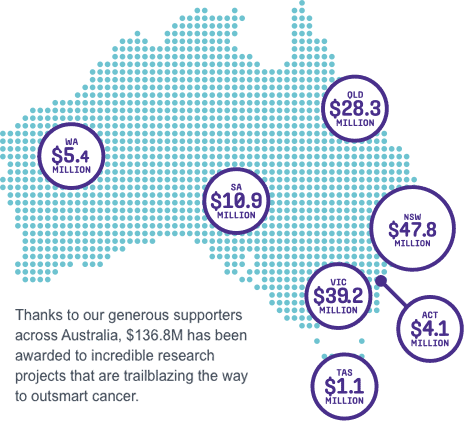 Let's take a look AT SOME ACRF HIGHLIGHTS
Together we became one of the founding partners of the 'Zero Childhood Cancer' program at CCI, which is leading to a personalised medicine program giving hope to children with the highest risk of treatment failure or relapse.

Together we have supported cancer research at WEHI, which has led to a treatment that melts away certain advanced forms of chronic lymphocytic leukaemia. The treatment is now being trialled for other types of cancer.

Together we supported Professor Ian Frazer's research into the cervical cancer (HPV) vaccine which is likely to lead Australia to be the first country to effectively eliminate cervical cancer. Over 150 million doses of vaccine have been delivered worldwide to date.

Together we have supported cancer research at CMRI, which has led to ProCan, an internationally leading project set to revolutionise the speed and accuracy of cancer diagnosis and improve cancer treatment outcomes.
The survival RATE FOR MANY TYPES OF CANCER HAS INCREASED BY MORE THAN 20% IN THE PAST THREE DECADES DUE TO TREATMENT IMPROVEMENTS AND NEW INTERVENTIONS BROUGHT ABOUT BY GRANT-FUNDED RESEARCH.
UNFORTUNATELY THIS INCREASE IS NOT CONSISTENT ACROSS ALL CANCERS.
Source: Cancer in Australia 2017 report, Australian Institute of Health and Welfare.
Your donation to cancer research WILL CHANGE OUTCOMES FOR ALL AUSTRALIANS WITH ALL TYPES OF CANCER.
It is your generosity that makes it possible to provide these major grants – we receive no funding from any other source.